Ah, coffee shops… They are eddies of calm amidst the chaotic currents of the daily grind. At This is Boise, we could be accused of holding coffee to a near religious standard. It's the medicine that makes the morning madness go down smooth.
Now, like any black-blooded, coffee-glorifying American, we love a good coffee house nearly as much as we love the coffee we order. There's nothing quite like the rich aroma of roasting beans to soothe the rough edges of a morning as you settle into a comfy couch for a bit of work. We all have favorites that we like to rotate through as a team, and we'd love to share those special, saintly spaces with you!
So below, in no particular order, our the Select Six coffee shops in Boise!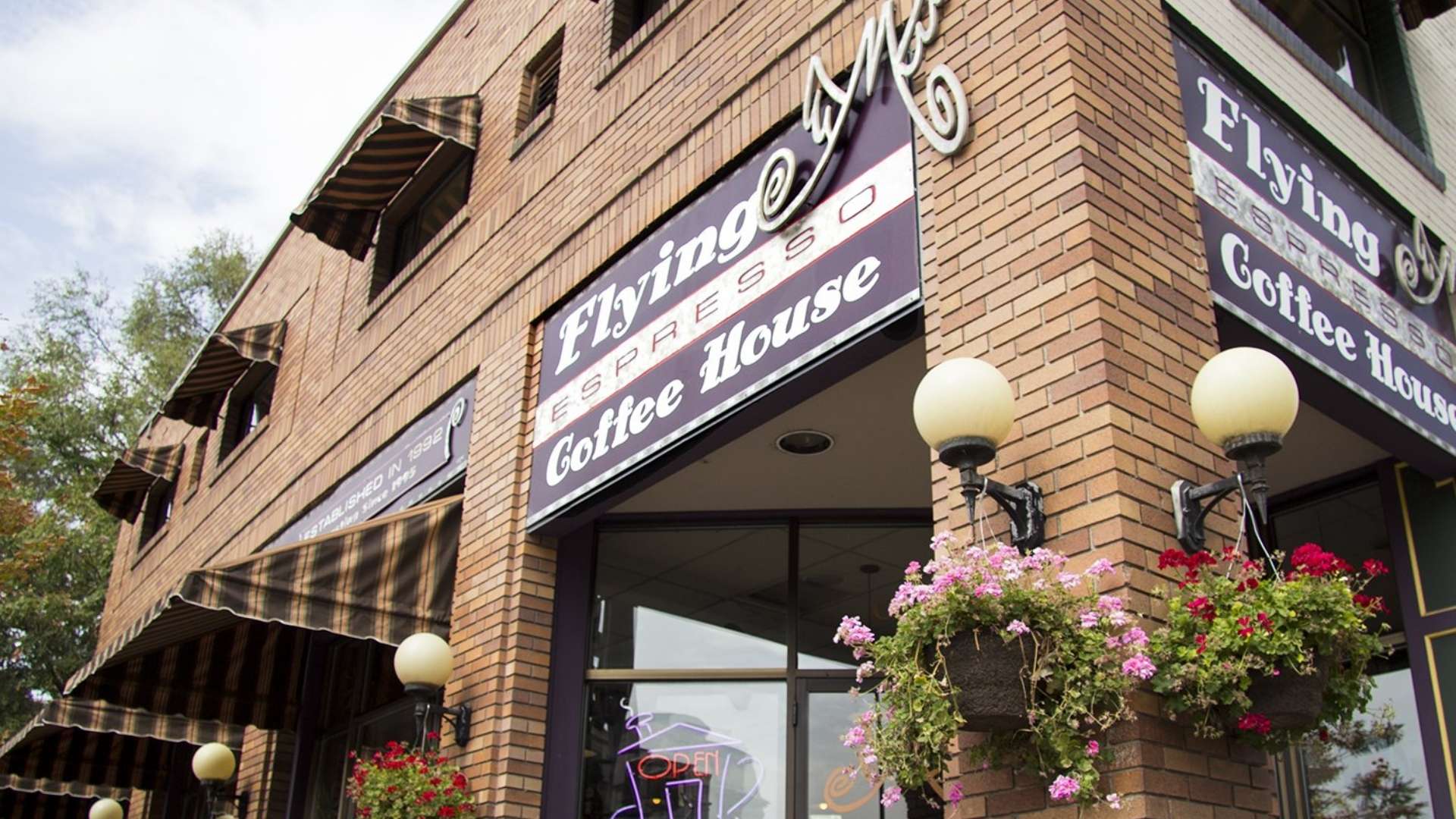 Flying M Coffee
No list of coffee shops in Boise would be complete without the iconic Flying M Coffee House in Downtown Boise. This well-known espresso house is renowned for its quirky style, unique gift shop, and welcoming, inclusive patrons.
Aside from all of that, our owner and CEO swears there is one standout reason to visit Flying M: THE BEANS! Flying M's coffee and espresso drinks are second-to-none, with a smooth, rich flavor absent of the bitterness you'll find in many corporate chain locations. You can even purchase Flying M blends to take home and make for yourself, but we think Flying M's atmosphere is worth the trip. Stop on by, browse the fun and eclectic gift shop while you're drink is made, and enjoy all the cool art! Who knows, you might even make a new friend!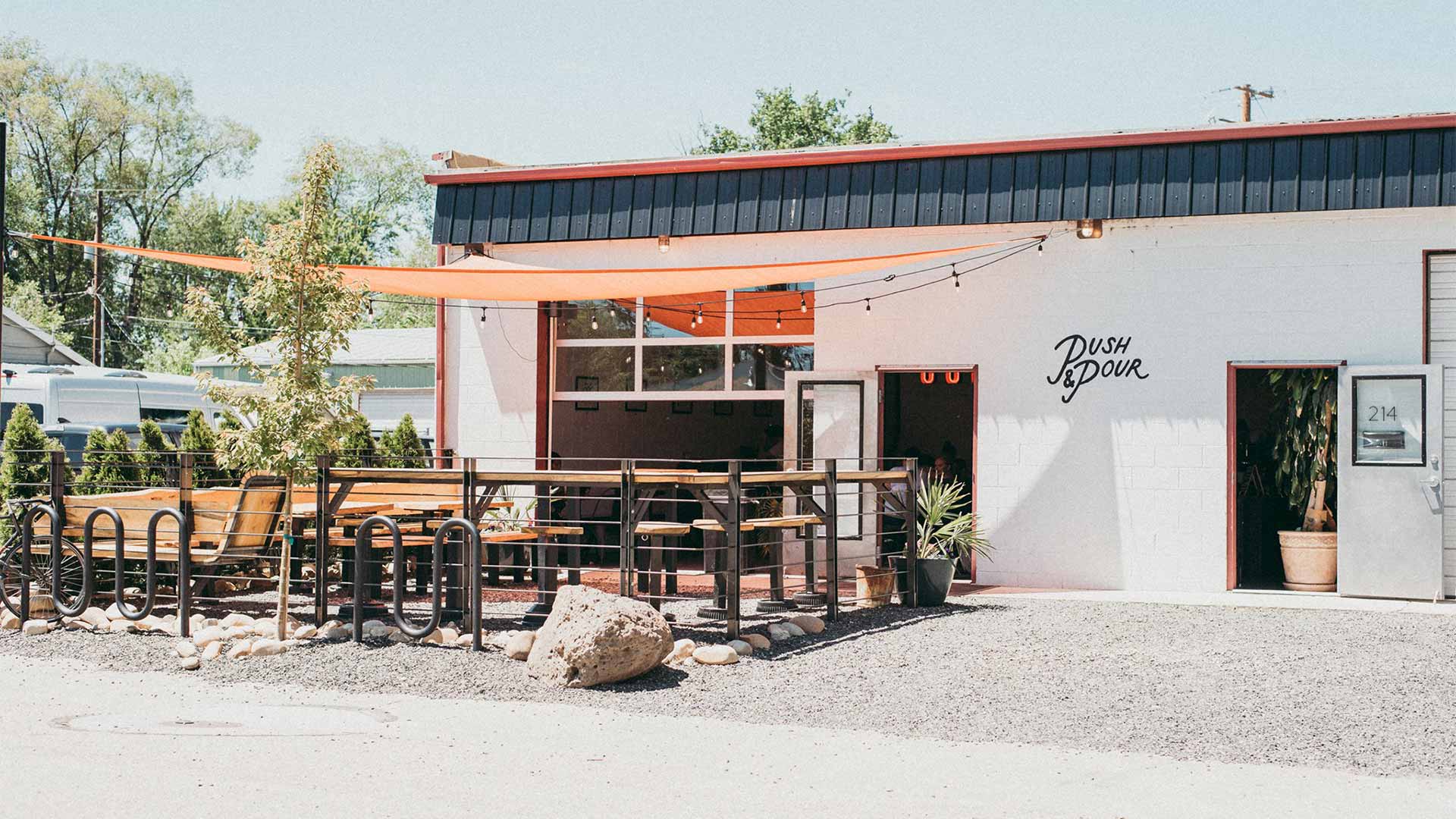 Push & Pour
Push & Pour is a local favorites for students, the occasional meeting, remote workers, and anyone looking for a comfortable atmosphere to sip a coffee, conversate, or focus. Push & Pour's Garden City location features an excellent patio in the warmer months, perfect for brunch (yes they serve food) and bicycling to and from. Plus, all of their coffee is roasted on site in Garden City!
Push & Pour has expanded to three locations in the Boise area, with two additional locations on Ash Street near JUMP and off Latah on the Bench.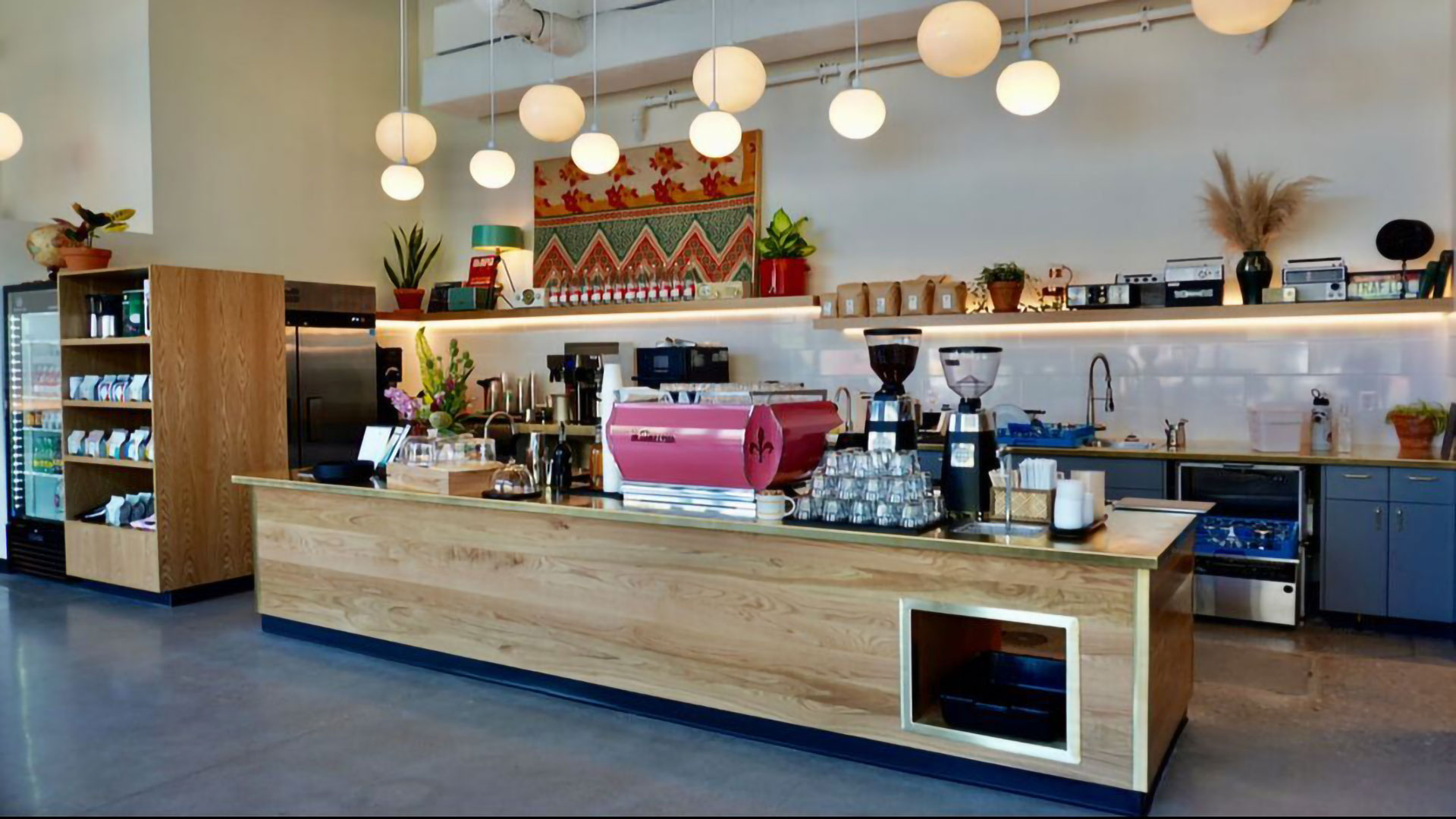 Broadcast Coffee
Looking for a coffee shop to work in? Maybe enjoy a Borgia? Or a Sparkle Pony?
If only some of that sentence made any sense, then you've never checked out Broadcast Coffee.
Located right next to the Cherie Buckner-Webb Park on 11th and Idaho, Broadcast not only offers traditional lattes, mochas, americanos, and the like – they also offer incredibly unique creations you won't find anywhere else. It's these amazing drinks that will have you coming back again and again. The Borgia is a velvety oat milk mocha taken to the next level by the addition of orange oils and topped with a rind (it also happens to be Eli's personal favorite – hot or iced!).
Maybe that's not your thing though, and you are more of a classic americano fan. Well, let's put a Broadcast spin on it with a combination of sparkling water and espresso – that makes it a Sparkle Pony! Sure you can keep it classic at Broadcast Coffee, but the fact that you have the option to trying something truly unique is what makes them Eli's personal pick.
The Amazing coffee, ample seating for work or relaxation, and floor-to-ceiling windows with a unique aesthetic is what puts Broadcast Coffee in our select six no questions asked.
Alchemist Coffee
The first thing you notice walking into the Alchemist Coffee's Overland Road location is the space – it's HUGE! Couches, tables, cushy chairs, and booths fill the spacious, open floorplan of this delicious-smelling coffee shop. There's an eclectic comfort that permeates every corner, and the decor across the cafe plays off Alchemist's vintage, old-world renaissance aesthetic. It's fun, charming, and wonderfully inviting.
Whether you're there with a group of friends to hang out, or you have your laptop tucked under your arm ready for work, Alchemist Coffee is a place you can thrive in. You can order a variety of specialty drinks, like the Sun & Moon Golden Late, or just sip on a cup of joe made from one of their incredible in-house roasts!
And what's better than one great Alchemist coffee houses? Two Alchemist Coffee houses!
Alchemist Coffee has just opened up a new location on Stewart Avenue and 27th St. to better service the Boise area. Each location kind of has its own vibe but still stays true to all the things that we love about Alchemist Coffee.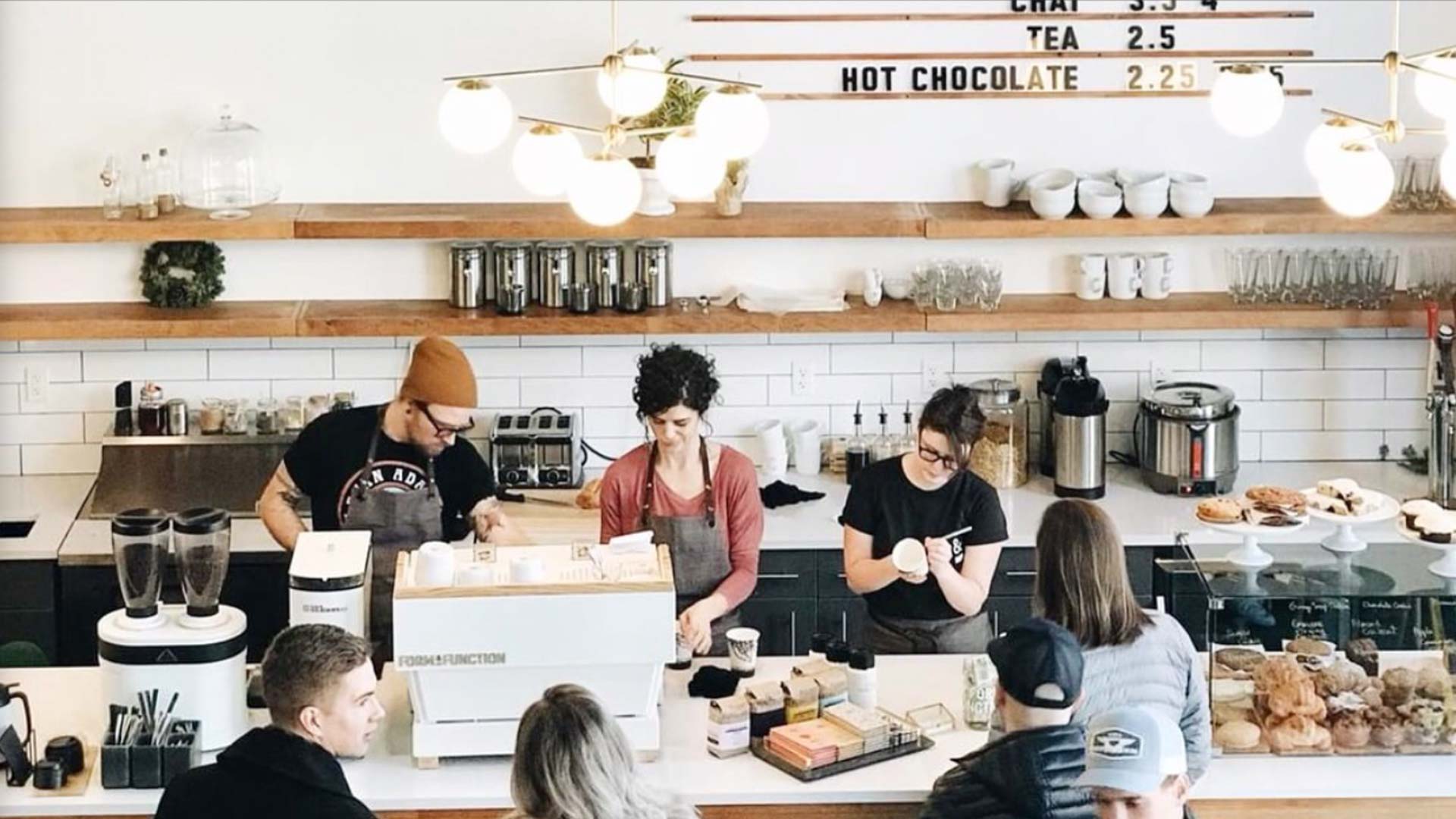 Form & Function
Form & Function takes coffee very seriously. They are a modern, two-story coffee roaster and shop located on the first floor of the Fowler Building on Broad Street in downtown Boise. Form & Function is passionate about coffee, managing the roasting process for the coffee they serve from farm to cup. Their coffee drink syrups are made in-house as well.
The downtown location is bright and huge, with plenty of space for work, meetings, or meeting up with friends. They offer a pastry and food menu as well. It's a must try!
Form & Function delivers on its coffee obsession with weekly coffee subscriptions available on their website, educational coffee classes, and you may see their renovated delivery truck turned full-featured coffee bar driving around town or at your next special event!
Java
Java has been a staple in the Idaho coffee community since its origins in 1991. Picture retro colors, stained glass windows, and Andy Warhol prints throughout the shop. Java describes themselves as "an inviting, rock n' roll atmosphere where the music is played a bit too loud!" Their retro, pop-art aesthetic immediately warms and welcomes you as you step through the door.
Boise is home to two different Java locations, one in downtown Boise and the other located in Boise's Hyde Park District. Both locations offer additional patio seating, but it must be noted that the Hyde Park location has one of the best coffee shop patios in Boise. Their Hyde Park patio features a large elevated deck that faces the sun and provides a great view of its Hyde Park neighbors and surroundings.
Java has a HUGE and fantastic food menu, not to mention their incredible fresh roasted, fair trade coffees. Our recommendation is to order a Bowl of Soul and a breakfast burrito. You will not be disappointed!