How are you ringing in the New Year? This Is Boise's got you covered! From family events, food spots, and nightlife, we have a full list of celebrations all around town!
NYE Family Friendly
Noon New Years (11 am, Garden City Public Library)
You don't have to stay up late to ring in the New Year! The Garden City Public Library is throwing a family celebration from 11 am to Noon! Enjoy crafts, music, a photo wall, snacks, face painting, and a toast to the Noon New Year! After ringing in the Noon New Year, stay to celebrate even more with a mini family dance party! See event here.
NYE 2020 Live Ice Carving at the Capitol (3 pm, Cecil D. Andrus Park)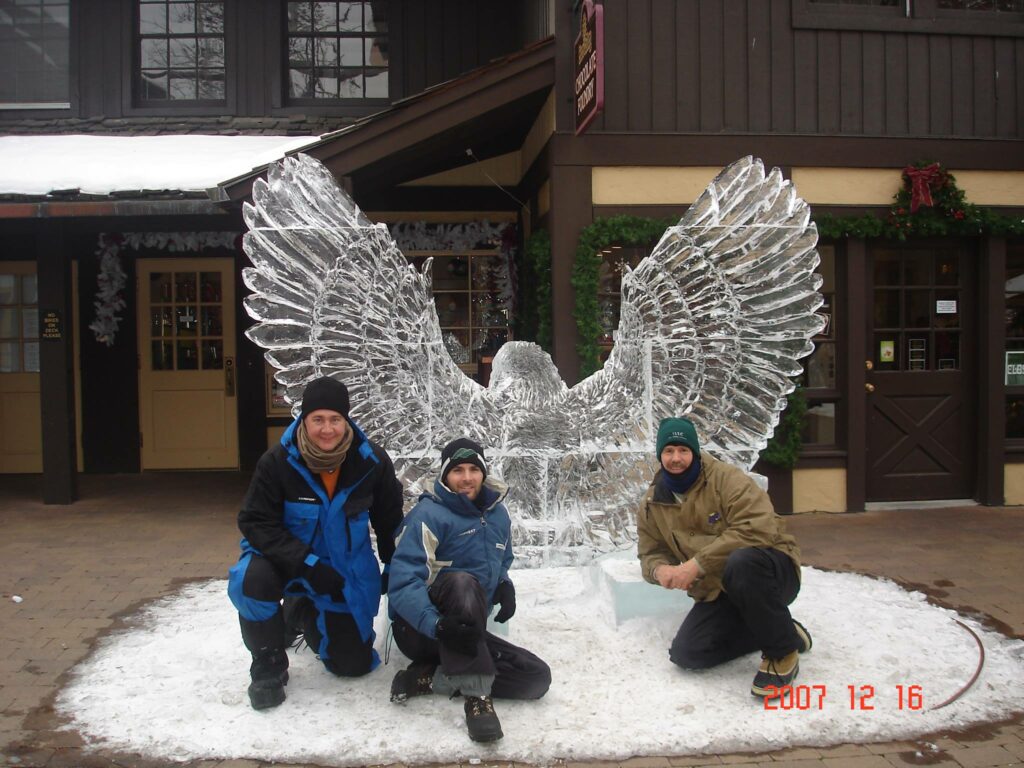 Starting at 3 pm downtown in front of Capitol two pieces will be carved! The first piece is of Sharlie, the lake creature in McCall. The second piece, a potato rocketing into space, will be carved from 7 – 11 pm. See event here.
Idaho Potato Drop (3 pm, Cecil D. Andrus Park)
Idaho's signature holiday event that can only be truly experienced LIVE at the Idaho State Capitol! The Idaho® Potato Drop is a free and charitable world-class New Year's Eve destination that supports local arts, business and charities. At 6:00PM, the world-famous #GlowTato will fly to its evening perch during the Idaho® Potato Rise. Shortly after, the inaugural Idaho® Potato Drop 5K race will begin, open to all ages and skill levels. As midnight approaches, world-renown recording artists Cowboy Junkies will serenade Spec-Taters into 2020. When the countdown to the new year begins, Inland Crane will 'Drop' it like it's hot to a World-Class Fireworks display! See event here.
New Year's Eve for the Entire Family (7 pm, Zee's Rooftop Cafe)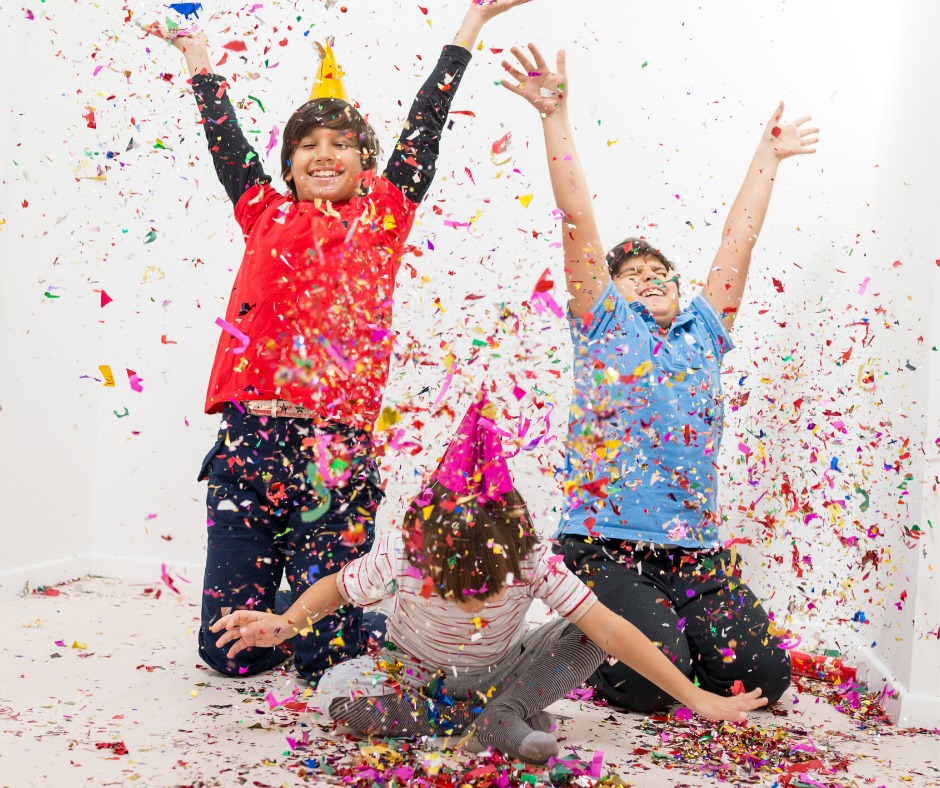 Looking for a Fun, Family Friendly New Years Eve Event? You found it.
Enjoy heavy appetizers by Chef Zee of Zee Christopher, two rounds of trivia with Game Night Live (8p & 10p), DJ & dancing, rooftop views of fireworks from the outdoor patio at midnight, champagne toast at midnight (Martinelli's for the kids), cash bar with local beer & wine, hot cocoa bar with all the fixings, walk over to the Capital for the Potato Drop, and downtown parking included until 12 noon Sunday. Sponsored by Corks For A Cure. See event here.
---
NYE Eats
NYE Oysters and Bubbles! (5:30 pm, Txikiteo)
The perfect spot to sneak away from the downtown Boise crowds and create a special moment with friends as the New Year begins. Celebrate in the true spirit of 'Txikiteo' and stop by on your way to and from NYE festivities! No Reservations. Counter Service. The regular menu (w/ vegan & gluten-free options!) will be served all day from 7am-6pm.
Starting at 6pm there will be fresh shucked oysters on the half shell (until they're gone!) and a vibrant selection of sparkling wines on special! Kids are welcome! Must be 21+ to sit at the bar – tables and patio all ages. There will be heaters, fire pits, and cozy blankets on the patio. See event here.
A Gatsby's New Year's Eve (6 pm, The Brickyard)

A cover free evening featuring Boise's best piano show! Dress to impress and get ready to toast 2020 at midnight. Dueling pianos begin at 10 pm. See event here.
Richard's New Year's Eve Gala (8 pm, Richard's at Inn at 500)
A Roaring 20's New Year's Eve Gala! Dance the night away on a lighted dance floor with the talented DJs from Soundwave! Located on the 2nd floor at the Inn at 500 overlooking downtown Boise. Appetizers, buffet dinner and desserts by Chef Richard Langston. Full bar stocked with your favorite Prohibition-era cocktails. Heated outdoor tent on the Plaza, photobooth, and other fun surprises in store. Go in costume and show off your Charleston! See event here.
---
NYE Nightlife
Casio Dreams NYE Dance Party (7pm, Ironwood Bar & Grill)
The Delorean is back from the future and Casio Dreams is ready to help usher you into 2020- 80s style! With the help of Ironwood Bar & Grill you are in for a memorable night of food, drinks, live music, and dancing! This is a ticketed event and reservations are LIMITED so don't wait to get you and your party reserved. The music starts at 9pm and will be going until 1:30am but be early and take advantage of the specials on food and drinks. See event here.
Futurama – Spacebar NYE Party (7 pm, Spacebar Arcade)
Ring in the New Year w/ music from Dave The Fave, Landerer & DJ Good Clean Fun! $5 cover gets you Free Play on all games, music from the above mentioned, and warmth from the cold! Don't forget, Spacebar is extremely close to the Potato Drop if that's your kind of thing and re-entry is allowed with wristband purchase. See event here.
Pre-Prohibition New Year's Eve (7 pm, Amsterdam Lounge)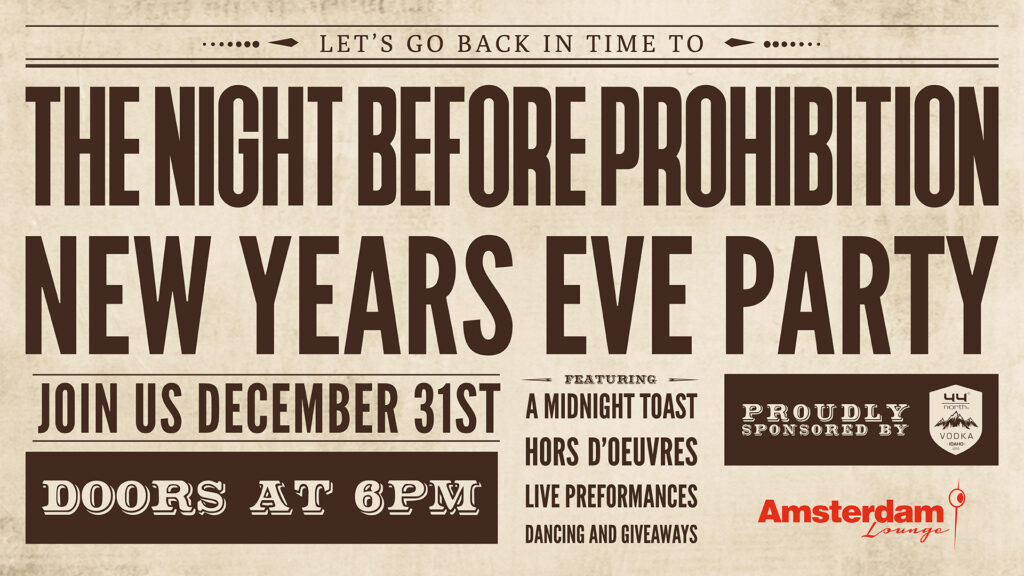 A New Year's event unlike any other! This just in! The federal government has passed new legislation banning the sale of alcohol after 2 am on January 1st 2020. Calling all Gatsbys, flappers, and gangsters! This will be your last chance to enjoy your giggle water before the coppers take us all down! Ring in the roaring 20's in style! 1920's costumes are encouraged!
This event will kick off at 7 pm on December 31st. This special NYE event features a midnight toast, hand-passed hors d'oeuvres, live performances, dancing, and giveaways! The best themed-costume will win a $500 grand prize! Doors open at 7 pm. A ticket will not be needed until 8 pm. Come early enjoy $3 cocktails until 9 pm. Purchase tickets here.
New Year's Eve with Mickey & the Motorcars (7 pm, The Knitting Factory)
Micky and the Motorcars with special guests Muzzie Braun, Jeff Crosby & The Refugees, Tylor & the Train Robbers. See event here.
Cosmic Future (7:30 pm, The Linen Building)
The night will begin with dinner and soft live music. After dinner several other amazing bands will be performing, visual artists will be creating art, and you will have the opportunity to create and connect in many ways. All proceeds of the event will go to local nonprofit RUJA. Read more about RUJA at ruja.org. See event here.
The Future is Now (8 pm, StrangeLove)
Celebrate New Year's Eve at Boise's premier 2-story nightclub!
POWER HOUR starts at 8 pm! Skip the lines, the cover charge, and receive happy hour pricing just for being in the door before 10 pm. After 10 pm, the cover is still only $10. See event here.
NYE 2020 with Spoken Bird, Jalaya & Dissolv (8 pm, Lounge at the End of the Universe)
This December 31st take a trip with back to the Roaring 20's for an unforgettable New Years' Eve Celebration! This event is brought to you by Persona Productions and powered by #LAMG Services. Great Gatsby / SteamPunk featuring: 2 custom stages on two floors (upstairs/downstairs). There will be two bars, live visuals, lazers, stage performers, flow artists, pole dancers, vendors & much more! See event here.
2020 Vision (8 pm, Club Karma)
Are you ready to begin a new chapter? Witness the unveiling of Boise's newest social club and dance club! Karma is providing a New Years Party to remember! Try the tantalizing new cocktail menu, dress to impress, and bring your friends for an unforgettable experience! FREE Champagne toast at midnight to ring in the new decade. PRIZES and GIVEAWAYS for the grand opening! Drink specials galore! $20 Cover – This event WILL sell out! Table reservations available: Kelly@8thStEntertainment.com. See event here.
Grateful- A Tribute Band (8 pm, The Olympic)
Boise's premier Grateful Dead tribute band GRATEFUL will rock into 2020 with an NYE show at The Olympic! See event here.
Bringing in the Roaring 20s (8 pm, Press & Pony)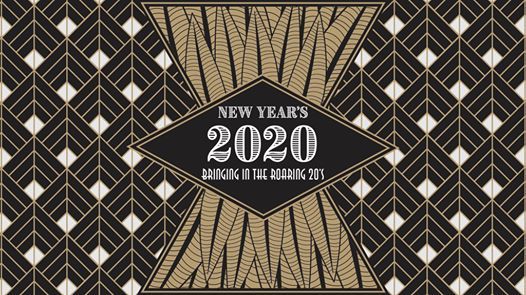 Celebrate and bring in the Roaring 20's with us! Go all out at this themed speakeasy New Year's Eve party. 1920's fashion highly encouraged! For a $10 cover, there will be:
– Private patio viewing of the Famous Idaho Potato Drop
– Complimentary champagne toast at midnight
– Press & Pony prohibition cocktails
See event here.
2020 New Year's Eve Bash (8 pm, Dirty Little Roddy's)
Ring in 2020 with all of your favorites! Cold beers, shots, the famous Roddy's girls, a mechanical bull, and country! This year skip the lines and the cover with POWER HOUR from 9-10pm. Get in before 10pm for free AND get happy hour pricing until 10pm! After 10pm the cover is still ONLY $10! Get your boot scootin' western New Years Eve at downtown Boise's only country bar! See event here.
New Year's Eve Champagne Pajama Party (8 pm, Western Collective)
Bust out the onesies and join us for New Year's Eve WESTERN STYLE. Da Party Plugs will be spinning jams, there will be a champagne toast at midnight, and tons of other goodies. Grab your friends, grab your onesies, and hit the dance floor to ring in 2020 in style! See event here.
The Fabulous Chancellor's 8th Annual Riverside New Year's Eve Celebration (8:30 pm, The Riverside Hotel)
Dance the night away in the beautiful Riverside Hotel Grand Ballroom for the annual Fabulous Chancellors New Year's Eve Celebration! See event here.
Hop Drop 2020 New Year's Eve Celebration (9 pm, Mad Swede Brewing)
Welcoming 2020 as Mad Swede drops the giant hop over the brewhouse at midnight! There will be live music by Soul Patch, Off The Grid'L food truck, and, complimentary champagne inspired beer at midnight. No cover. See event here.
Black and Gold Ball (9 pm, The Balcony Club)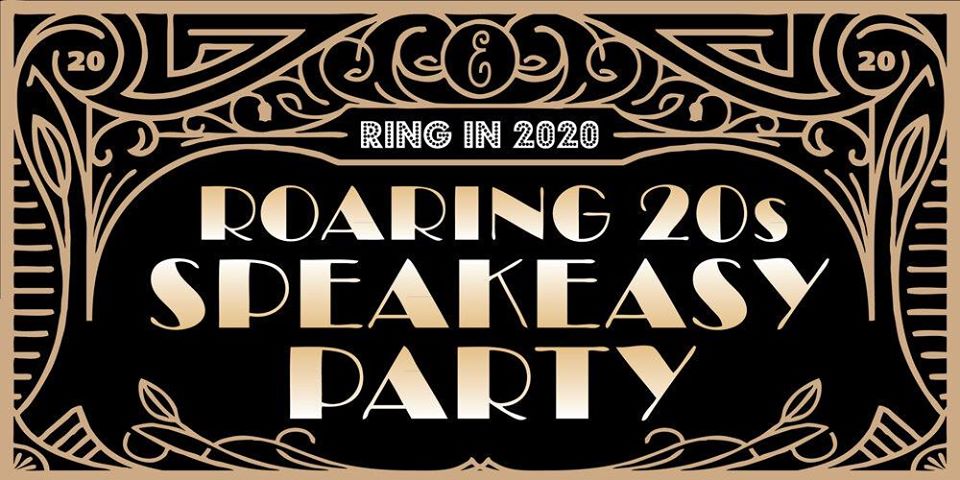 Cheers to the New Year! Raise your glasses and have a toast. Tuesday, December 31, from 9 pm – 2 am. There will be party favors, dancing, and complimentary champagne jello shots at midnight. See event here.
Shine: NYE 2020 Dance Party (10 pm, Tom Grainey's)
From 10 pm – 2 am, Shine Dance Party has a glitter theme to get *lit*.
Upstairs features Rahkeem and downstairs in Grainey's Basement will be Bourgeoisie Beats.
Drink Specials:
-$7 Green Grinch Tea (Jameson Caskmates IPA, Peach Schnapps, Sour, Sprite)
-$6 Red Headed Russians (Absolut Juice Strawberry, Kahlua, Cream)
-$6 Absolut Cocktails – add $1 for Red Bull
-$6 Squirt Shots (Absolut Grapefruit Vodka, Sour, Sprite)
Start 2020 off with the best vibes. Complimentary Champagne toast at Midnight! $5 Entry. 21+. See event here.